Dr. Noshir Shroff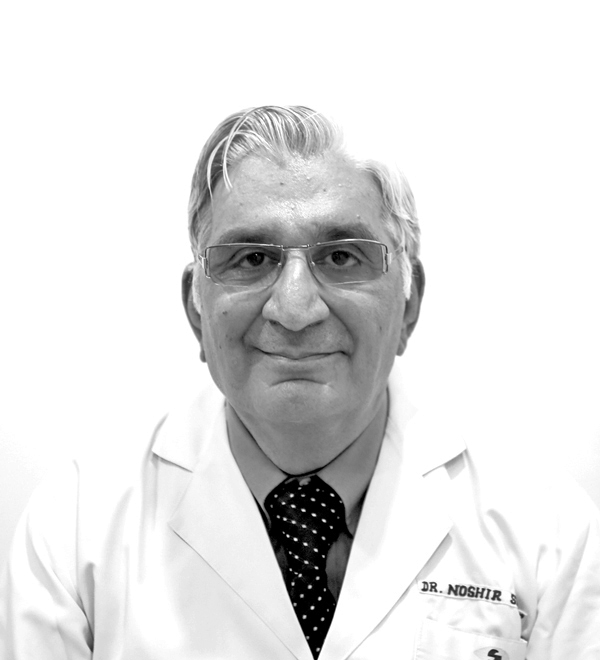 Dr. Noshir Shroff
MBBS & MS (MAMC, Delhi), MAMS (Vienna)
Cataract & IOL Surgery

In 1978, Dr. Noshir Shroff joined Shroff Eye Centre as Medical Director & Partner, and started Cataract & Intraocular Lens (IOL) Implant services, as well as Refractive Surgery services. He has been a pioneer in the field of intraocular lens implantation surgery in India, having performed his first implant surgery in 1982. Dr. Noshir Shroff was also one of the first in the country to start Phacoemulsification, in 1992. He is also a pioneer amongst the keratorefractive surgeons, having performed thousands of surgical procedures including, PRK, LASIK, LASEK, Epi-LASIK and Intralase (Bladeless Lasik surgery).
Dr. Noshir Shroff takes great interest not only in improving techniques and protocols of ophthalmic practices but even in the actual design of the instruments for better performance. Some of his ideas have lead to innovations which have facilitated cataract surgery.
Dr. Shroff has won numerous awards and has held prominent positions in several medical societies. He has delivered many key note addresses and presentations at National and International conferences and published papers in journals and contributed chapters in Ophthalmic Texts. He is actively involved in the Diplomate National Board (DNB) programme for training young ophthalmologists.
Dr. Noshir Shroff is also a Senior Consultant and Adviser as well as a trustee of the Shroff Charity Eye Hospital (SCEH), Daryaganj.
Dr. Noshir Shroff is the proud recipient of the Padma Bhushan award in the field of Medicine in the year 2010 in recognition for his work in ophthalmology and service to the community and underprivileged.
Specialty: Cataract & IOL Surgery
Location: Kailash Colony | Connaught Place
Kailash Colony
Connaught Place
Gurgaon
Ghaziabad